An important update of Office 365 took place on 10.04.2021.
Some customer feedback this Monday indicates that while writing a reply to an email, suddenly the main Outlook window appears and the reply they were writing disappears. I have also experienced this phenomenon. A bad keyboard/mouse manipulation may be the cause. This has yet to be confirmed.
In my case, I checked the taskbar to see if it was an ALT + TAB keyboard equivalent, I found the draft reply behind the main Outlook window.
This means that the draft reply window loses focus to the Outlook window itself.
Then, if you want, press ALT + TAB, or drag your mouse over the Outlook icon in the taskbar, you may find your draft there.
Below: the main Outlook windows and the draft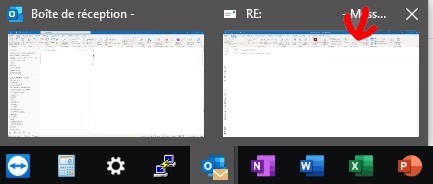 To be confirmed.
Pascal Cornet
CEO Natexan - Bel-Armor SA.